Krzesło gamingowe GAMER ONE
Fotel biurowy
zł1,829.27
-5%
zł1,737.80
Krzesło gamingowe GAMER Five
Height-adjustable desk
vs
ordinary desk without adjustment
An adjustable desk gives you the comfort of choosing the position in which you spend your time working, learning or playing. Freedom allows movement and freedom It also gives health. Do you know the spine; is 40% more loaded when you sit in relation to working while standing? When you stand, you also have the option of moving to the beat of the music or just your own soul. It's really very comfortable.
The height-adjustable desk allows you to take any position. You can sit. You can assume a semi-sitting position (on a higher chair or trestle). Or you can stand while enjoying the freedom of movement.
Accessories matter
Not only the adjustable desk will provide you with pleasure at work or entertainment. We have holders for monitors with height adjustment. Thanks to them, you can set the monitor at the right height. One move of the hand to change its position. They also allow the monitor to be rotated 360 degrees. As a result, it assumes a vertical arrangement from a horizontal arrangement. Such a simple move will make it easier for you to write important articles, reviews ...
If one monitor is not enough for you, our dual monitor holders extend the working area without taking up any desk space. You can use the saved space to store important documents. There will also be a place for your favorite drink.
We also offer other elements that will make the use of height-adjustable desks more attractive.
Don't like cables tangled around your desk? Our cover will effectively hide them and protect them from damage.
Are you a game lover
looking for a dedicated desk?
Our GAMMA height-adjustable gaming desk
will help you stay fully concentrated on the playing field.
Be happy and healthy
Feel the fun of the game using the GAMMA Gaming Desk
Take care of a nice environment
The pleasure of the game will be ensured by appropriate LED lighting and adjustment of the height of the desk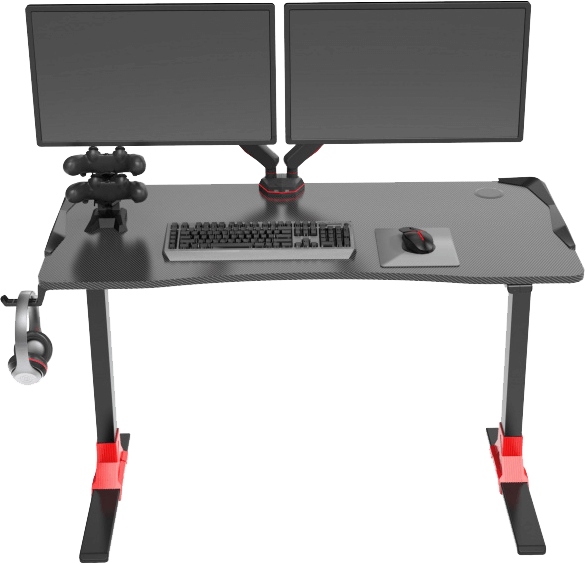 The key to success
The height adjustment of our desks is an excellent personal trainer. It will not only allow you to set the desk at the height that is right for you, whether it is sitting or standing. It will also remember three settings that you can change with one click. In addition, if you wish, it will remind you at certain intervals to change positions.
Always start working in a standing position. Remembering that your spine recently spent several hours lying down while sleeping. This will reward you with a better sense of well-being at work and the rest of the day.
Who we are?
The Ergonomics project is a space where we combine the competences of management, trade and marketing specialists with scientists who provide knowledge about the functioning of the human body. First of all, we try to fulfill advisory functions, which then translate into the implementation of our business goals.
What we do?
We focus on the needs of our clients. Originally, our offer was dedicated to professionals and professional workplaces. The activity changed a bit in 2020, when work moved to homes, and our products and services also found their place in private spaces.
The effect of our work
We effectively improve the ergonomics of the workplace or study. We offer consulting, perform ergonomic audits, deliver products that increase ergonomics, and teach how to use them.
Improving ergonomics leads to increased efficiency at work, gives satisfaction and has a positive effect on health.
Ergonomics
A fashionable term, but for us it is not just an empty slogan. This is part of our mission, the effect of which you should not notice. The ergonomic position is to ensure that even after several years of stationary work you will not feel any discomforts associated with it. Ergonomics at work is part of a healthy lifestyle that, when combined with others, will ensure long-term health.
Products
We are the producer of most of the products offered in our store. We limit the number of intermediaries on the way to the end user, which guarantees the best prices in the network and high service competence.
Customers
Our products and services are addressed to companies, employees and students operating in a remote system, as well as to players looking for style and ergonomics.
Order fulfillment
Most of our standard-sized desks and accessories are in stock, ready for shipping, so your order will almost always be shipped the same day. If the product is produced especially for you, the implementation is slightly longer and usually takes about one week.
delivery
Usually, the delivery usually takes place the next day after placing the order. The cost of delivery of accessories is PLN 20.
Delivery of 1-3 items of desks is PLN 100 (in total), and orders for 4 or more items will be delivered without shipping costs.