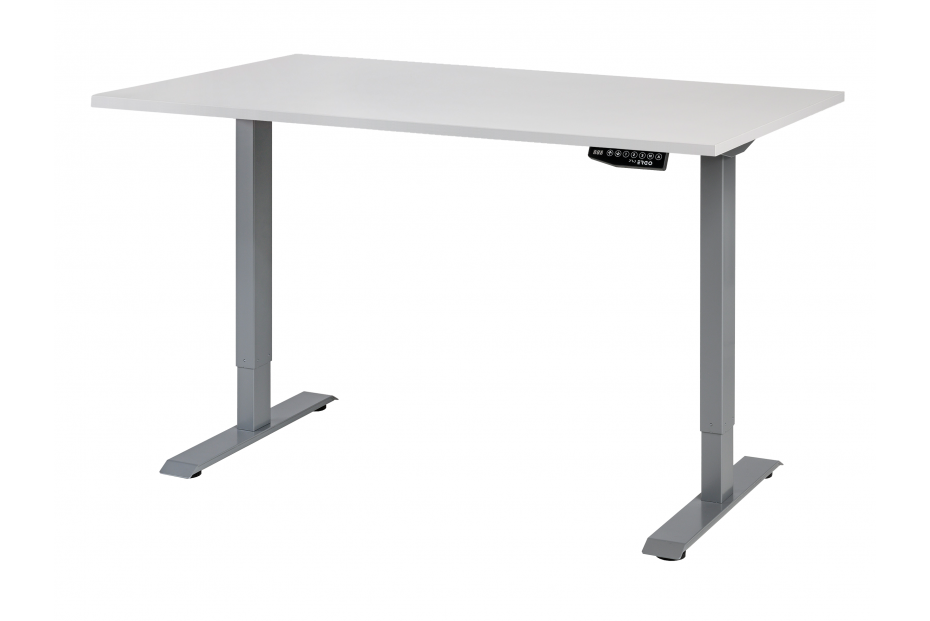 A modern Alfa desk with adjustable table top height will allow you to adapt the workplace to your individual needs. It is a modern office furniture, enabling 100% adjustment of the workplace to your individual needs at the moment, and if the needs change, the desk will follow them, providing relaxation movement, the deficit of which your body feels most during many hours of sitting work, and which, according to experts' recommendations, should be performed regularly during sedentary work. Aesthetic appearance and universal classic design in modern colors will make the desk easily adapt to any interior. Personalize your desk by choosing the size and color of the worktop, as well as ordering additional accessories that will improve the comfort and convenience of your workplace.
Tops
Desk tops are made in accordance with the latest trends. However, if you feel that you need something more, we will make the table top exactly according to your wishes. Each of the countertops can be equipped with additional accessories – all so that nothing stands in the way of your efficiency.
Configuration
The furniture is created to fit you - the device controller can remember 3 individual height configurations, and for inconsistent ones it can remind you to change the position you have to change your position according to the entered configuration.
Noise
The mechanism is very quiet, the height change is only 50dB,and its speed will allow you to squeeze the maximum out of every minute of work.
Match
The 450 mm adjustment range allows full adjustment to any position - sitting, semi-sitting and standing.
Mechanism
The desk has a solid mechanism based on a two-stage construction of columns, which ensures the stability and service life of the furniture on a daily basis. The desk allows you to change the height of the table top along with 100 kilograms of documents and equipment located at your workplace.
The mechanism is equipped with an ACS system - it will turn off when it encounters an obstacle in its path.
Possibilities
Feel how comfortable it is to have a conversation with a guest visiting your office when you're both talking leaning against your desk – a freedom known more from Friday nights at the bar than from rigid business meetings.
Certitude
Our products are manufactured in cooperation with the world's best manufacturers, we are focused on product quality and meeting the expectations of each of our customers.
True ergonomics is only possible through an individual approach.
Thanks to the fact that we have components for desks in stock, we will complete your order the fastest on the market.
Projekt Ergonomia
Recommended table top width

1200-2000 mm

Recommended table top depth

600-800 mm

Desk height change range

690-1180 mm

Carrying capacity

100 kg

Power

100V-240V

Number of engines

2

Driver

programmable, 3 position memory, inactivity alarm

Other systems

anticolision

Leg construction

square cross-section, without holes, lower part larger cross-section

Velocity

32 mm/s

Column color

grey

Certificates

CE, CB, RoHS, FCC, UL, IC
https://proergo.space/en/desks-for-the-office/alpha-desk
PLN
1290
2023-12-24